Cellulite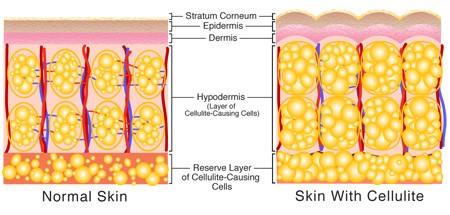 Cellulite – also referred to as 'orange peel skin' – is an ailment c women typically suffer from. The orange peel skin arises as a result of a disturbance of the tissue and the increase of fat cells in the dermis. The tissue hardens and pulls the skin inward and the fat cells form cushions that are encapsulated by the tissue.
In order to reduce or even remove this, it is important for the adhesive and tough tissue to be released and for the toxins to be disposed of naturally.
This can only be achieved by massaging the skin extensively by a rolling movement and a skin that has been vacuum sucked. This is the way to reach the dermis and deal with your cellulite.
The Chinese culture has been using this massage technique for centuries to improve the blood flow and to get rid of toxins.
The Cellulite Cups can easily be used at home and you will see a result quickly. Forget the expensive salon treatments with, for example, velasmooth or velashape, you can now achieve the same result at home. The Cups are made of silicone and are easy to clean with water. You can use your own favourite massage oil and it requires little to no effort. The Cups are transparent, so you can see what effect it has on the skin.
The Cups do all the work!
You will see your skin and figure improve rapidly, your cellulite is reduced and as your blood flow is optimised, your skin becomes tighter and your silhouette will improve.
Please note that you will have quite a few bruises after the first treatments! This is because your skin is not yet used to a powerful vacuum massage and many adhesions will loosen. This will improve after a few treatments. Drink enough water and/or green tea, and your body will dispose of many toxins.